Most powerful guilds on Evolera
8.6 Client is the only client that is allowed asfor now!
Instructions; open link;
https://i.gyazo.com/56edbef2f7581fde69e657b777f17855.png
If you have some trouble managing to log in do the following.
1. Open CMD.exe
2. Type in ipconfig /flushdns
3. Log in
If that doesn't work, restart your router or something similar.
No matter what it will start to work for youwithin some hours. It is the DNS server that is changing.
Antivirus
If you have problem with client such as
evolera.dll is missing. Allow the client and its files through your antivirus. The client does of course not contain any viruses, it is just false-positives.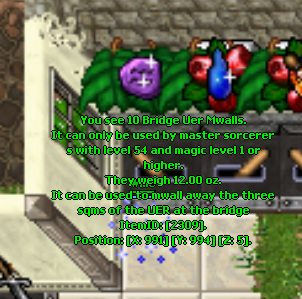 - Rogue vocation added.
- Bridge mwall trinket added (10x, 50GN)
- Edited the Pvp stages so it should be more enjoyable for everyone.
- Added blue legs quest.
- Removed the purple color from the healing.
- New system; The first one to reach 1,7M, 1,8M,
- Added back Exevo burning Bomb for sorcerers.
- Enabled mwalling
FROM
bridge, but not on bridge.
Skull hunter system!
05.06.16

New system enabled;
- Skullhunter system:
As many of you already know, top 10 players has got a skull for their advancement in the game. This system will basically make you gain more exp, the higher skull level you kill.
If you manage to kill a skulled person you would gain the following benefits;
[Black skull] (top1 player) = +30% more exp
[Red skull] (top2,3 player) = +25% more exp
[Green skull] (top4,5) = +20% more exp
[Yellow Skull] (top6,7) = +15% more exp
[White skull] (top8,9,10) +10% more exp
Note to every evolera player!
02.06.16
As you may already know there are few people who are trying to recreate evolera and they're opening our old editions, due to leak of documents they have access to old files and maps we used, however you shouldn't check those ots out since you might get hacked or they can contain viruses that can harm ur pc or take advantage of your private stuff or if you even try the ot due to curiosity never use the same acc name/password as on original evolera. We suggest you not to try even creating account there and we are almost sure that ots like that will get shut down sooner or later, Sincerely Evolera Staff Team!