Most powerful guilds on Evolera
Paygol has been deactivated as a payment method as for the reason that they charge too big fee's (80%~~) in some cases so it is not worth keeping.
Heaven legs first team to complete!
19.12.17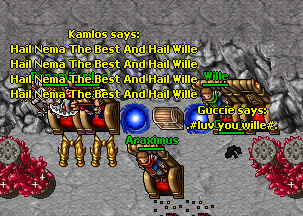 Reward: 60 K lvls~~ , Heaven legs & +1% proteection!
Other fixes;
- Fixed so depots are non trashable
- Fixed token shop for spells (last floor temple)
Merry Christmas Naaru from Obama!
14.12.17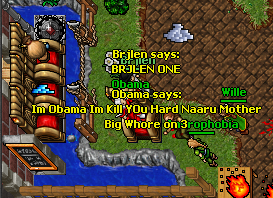 Just to remind you guys how much we like our staff Naaru on Evolera, Obama himself wanted to put the message accross.
Update 11th December
11.12.17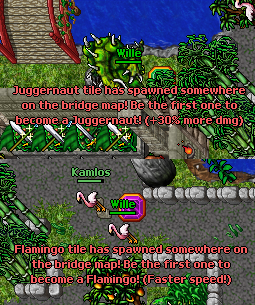 - Juggernaut temporary buff spawning at the eastern island of bridge, along with the flamingo speed buff!
- Boosted rewards in the Bridge bosses, you will now experience it to be easier to get demonicas / heavens.
- Heaven items has gotten a decrease in price at NPC Item seller.
- Map change system, staffs can now change the theme of the bridge during the day with a simple command.
Changes during the week
04.12.17

Changes during the week
- Worked on optimizing the database / scripts which caused server to lagg while there was much war. [Yet to see how much this improved the laggs during the day].
- Added [Kills,Assist,Deaths,Solokills] system! It counts all of your records.
- Removed all frags for people, sadly it has to be done every month in order to prevent laggs.
- 4x Bosses has been added throughout bridge area in order for you to kill to obtain demonicas/heavens/emeralds [Respawn time 20 min].
- Buffed critical damage talent.
- Buffed the paralyze slightly more.
What will be worked on for the future:
- Quests.
- One more unique spell per vocation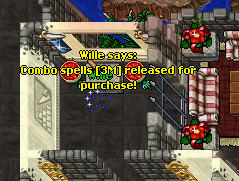 - Edited color of critical hit damage.
- Nerfed price of gems from (15 tokens -> 4)
- Combo spell shop (third floor temple added)
- New vocation; Rogue added
- New gem; Rogue gem [green gem]
- Heaven items buyable from Item seller in shops tp